About Us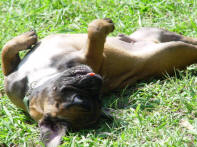 Welcome to Ruff Diamond French Bulldogs. We are located in North Georgia about an hour north of Atlanta.

Thank you for visiting our site and we hope you enjoy our little frog dogs. I first decided to get into the French Bulldogs after raising, breeding and showing American Bulldogs. I have always loved Bull breeds and didn't ever think I would like a smaller dog...LOL. Well to my surprise the frenchie has won my heart with its big dog attitude. I have found over the past couple years that the Frenchie is not a big barker and I was happy about that because I am not a fan of a yappy dog. They are not at all like most small dogs that I have ever been around. They have a very proud sense of themselves and they are very loving and loyal. Yes the Frenchie can be a lap dog but they can also be your best friend and do whatever you ask them to do. They play hard and fast they are very active dogs and they are not happy just laying around the house they want things to do and will find them if you let them.
I fell in love with Frenchies several years ago and looked for 3 years before I decided on what I wanted and what lines to get, I got Augie and Georgia and they are everything I could have asked for. Their big personalities, big ears, sweet faces and attitudes are unbelievable. The French Bulldog is so much fun to have around they all have their own personalities and are little clowns. Whether we are sitting on the couch watching TV, working in our office, going outside or whatever they are always their with us. If you are down or upset they will always make you laugh or smile....you just cant help yourself.
We decided to breed the Frenchies not just for the money although to be perfectly honest it is nice......but their are people out their breeding frenchies just because they have them and they are doing nothing to make sure you are happy and they are not making sure the dogs are healthy and breed worthy. The French bulldog does have some health issues however choosing the right stock and making sure they are free from any genetic problems should be first. We want all our customers to be happy and have a long life with their French Bulldog.
We now own several Frenchies and they all live in the house with access to the house and to the outside thru their doggie door.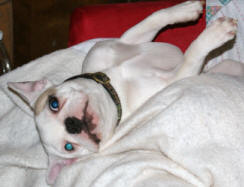 The French Bulldog is a great dog for any family and are great with kids and all family members and friends. Everywhere you go with your Frenchie, people will have to talk to you and find out more about them.
I am also certified thru The Canine Coach as a certified dog trainer and behaviorist this is a passion of mine and I love working with dogs. So if anyone who has a dog they need help with please do not hesitate to call me and I will be glad too.
We hope you enjoy our site and will always be here to answer your questions so please don't hesitate to contact us.
Thank you and God Bless,
Mike & Jeff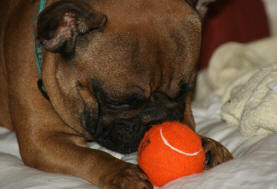 Copyright©Ruff Diamond Frenchies 2005-2010 all rights reserved. All photo's, graphics and information pertaining to Ruff Diamond's web site is privileged and is the property of Ruff Diamond French Bulldogs.