Females
Ruff Diamond's Hershey's Kiss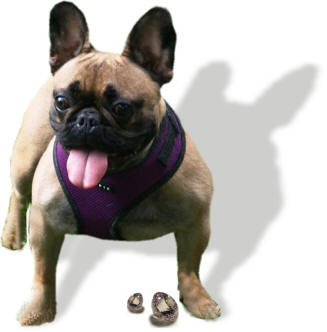 Hershey....what can you say but WOW !!! Hershey is a very outgoing female with a lot to offer our program. Her body is great with awesome muscle, head and body. Her movement is great and she can jump like nobodies business. He is all over the place playing and picking on all the other dogs. She is the one that causes trouble but never gets caught...LOL. Watch out for Hershey she get better every day.
Hershey's Pedigree
DOB: 04/13/2009
Sire
Ruff Diamond's Augie

Sire
Ch. RUS Etual Nuar Favorit DJ Jeep

Sire
Ch. GEO RUS Baxters Sam the Sham

Dam
Ch. MOL UKR BLR RUS, Ensolan Visage IZ Doma Maxa

Dam
Agra

Sire
Ch. RUS Ramses De La Source Saint Simond

Dam
Fler Nora

Dam

Ruff Diamond's "Georgia" on my Mind

Sire


Yason-Kay Mey

Sire

Ch.Rus Grand,MOL ,BUL, BLR, UKR CW Super Bulli La Monarchia-Mirabeau

Dam

CH RUS Peti Llevr Vidi Vici

Dam
Agata


Sire

CH. RUS Snezhny Bars

Dam
Kristi
Copyright©Ruff Diamond Frenchies 2007-2010 all rights reserved. All photo's, graphics and information pertaining to Ruff Diamond's web site is privileged and is the property of Ruff Diamond French Bulldogs.