Females
Ruff Diamond's Little Miss Priss "Gidget"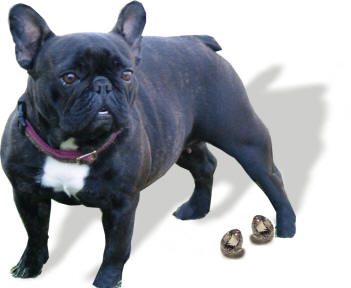 Gidget is one great little female. Talk about spitten image of her mom just a little better. Gidget is one little bombshell of a female. She is very outgoing and always into something. She was the runt of the litter and boy does she have the fire and attitude. She is black with very little brindle in her coat. She is a looker that is for sure. Gidget is short bodied with a smashed face and the attitude to back it up. Gidget is 21 lbs and stands 11.5" tall at the shoulder.
Gidget's Pedigree
DOB: 05/05/2008
Sire
Ruff Diamond's Augie

Sire
Ch. RUS Etual Nuar Favorit DJ Jeep

Sire
Ch. GEO RUS Baxters Sam the Sham

Dam
Ch. MOL UKR BLR RUS, Ensolan Visage IZ Doma Maxa

Dam
Agra

Sire
Ch. RUS Ramses De La Source Saint Simond

Dam
Fler Nora

Dam

Ruff Diamond's "Georgia" on my Mind

Sire


Yason-Kay Mey

Sire

Ch.Rus Grand,MOL ,BUL, BLR, UKR CW Super Bulli La Monarchia-Mirabeau

Dam

CH RUS Peti Llevr Vidi Vici

Dam
Agata


Sire

CH. RUS Snezhny Bars

Dam
Kristi
Copyright©Ruff Diamond Frenchies 2007-2010 all rights reserved. All photo's, graphics and information pertaining to Ruff Diamond's web site is privileged and is the property of Ruff Diamond French Bulldogs.