Males
Ruff Diamond's My Own Buckin' Business
AKA: Bucky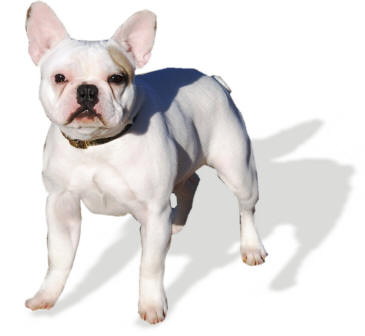 Bucky is our wild child, He is always on the go and always into something. Bucky is very loving and loves people and kids. He is so playful and goofy and will make you laugh all day. Bucky is a white/fawn pied male and is continuing to grow and still has several months to go before he is fully developed. He has a nice head and chest and a great butt with a lot of muscle. Bucky is my "Butt Head" in other words he is stubborn and wants to do what he wants to do but then what do you expect...He is a French Bulldog. Bucky is approx. 22 lbs and 12" tall to the top of his shoulders.
Bucky's Pedigree
DOB: 05/14/2009
Sire
Hillbullys Mini Cooper by Chiquola

Sire
Ch. Chiquola's Git R Dun

Sire
Ch. Beaulaid Jasper Le Noire

Dam
Ch. Hedgebrooks Carolina Flower

Dam
Hillbully's Petet Pixelle

Sire
Ch. Jasper Le Noir

Dam
Ch. Rippling Waters Geneva

Dam

Hansons Betty Boop

Sire
Marshal Charls Lesli

Sire

Juliy

Dam

Klubnika V Smetane

Dam
Dunapataj Reme Koni

Sire

Masque Chatoyante Demon

Dam

Canis Draco Viny
Copyright©Ruff Diamond Frenchies 2007-2010 all rights reserved. All photo's, graphics and information pertaining to Ruff Diamond's web site is privileged and is the property of Ruff Diamond French Bulldogs.